Spring Has Sprung!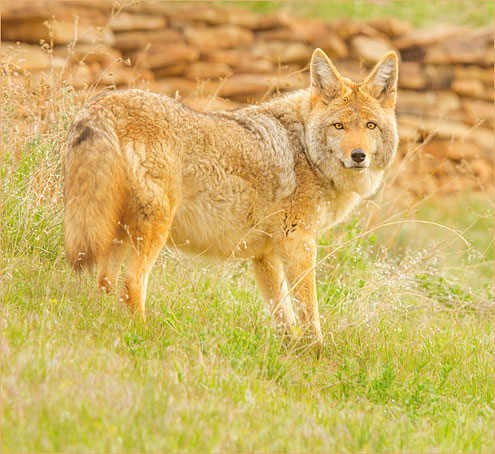 photo taken May 2018
one year ago: Gorgeosity
two years ago: LOL
three years ago: Giant Octopus
four years ago: Theme Of The Week Is TOYS
five years ago: Foreshadowing
six years ago: A Good Monday To You
seven years ago: Sometimes Outtakes Are The Best Takes
eight years ago: On Second Thought: It's Too Good To Stay In The Ground
nine years ago: Baby Cave
ten years ago: Belly Rub

2 Responses to "Spring Has Sprung!"
Jenny C Says:
June 4th, 2018 at 8:43 am

A photogenic coyote and a hugely talented photographer walked onto a Wyoming ranch…

Impossibly perfect shot. Bright green prairie grass and that beautiful cobbled wall are the perfect backdrop for this beloved wild boy. His arresting gaze right into your lens is breathtaking, Shreve.

(Surprisingly thick coat remained into May. You must be inundated with puffballs by now.)

Sandy G. Says:
June 8th, 2018 at 6:44 pm

And somebody's happy about it!! Yay! Or Yip, Yip!
Leave a Reply