Mesmereyes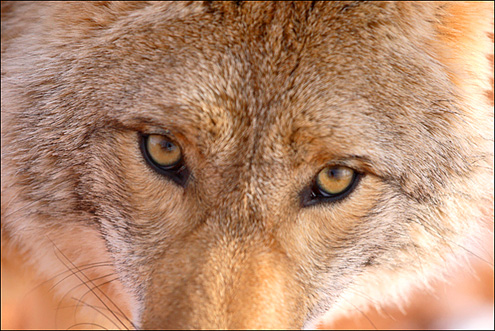 photo taken March 2009 • title thanks to Tina
Incredible entries from all of you – this morning was hard having to choose just one.  I recommend opening one browser window for Charlie's picture and a second browser window next to it for the comments so you can scroll through them, side by side with the image.  Thus, instead of a "short list" as I sometimes do, I'm just going to copy the words of Chief Seattle that Britney left in the comment section:
"If all the beasts were gone,
men would die
from a great loneliness of spirit,
for whatever happens to the beasts
also happens to the man.
All things are connected.
Whatever befalls the Earth
befalls the sons of the Earth."
- Chief Seattle
As for the title, Tina, I think you sum it up ~ thanks for the perfectly articulate pun.  And thanks to all who share what they see.
• • • I'm not even going to type a preface for fear of saying something -
I want to hear what you have to say for this shot, and see what you see in it.
So without ado ~ leave your title, caption, and/or commentary for this photograph in the comment section of this post (simply click on "xx Comments" directly under the post title to leave your entry) and you will be in the running for this week's prize: an 8 x 10 signed print of THIS image (the eye is the focal point in this shot too, if you can spot it….) Happy Monday!
445 Responses to "Mesmereyes"
Leave a Reply