Spring In His Step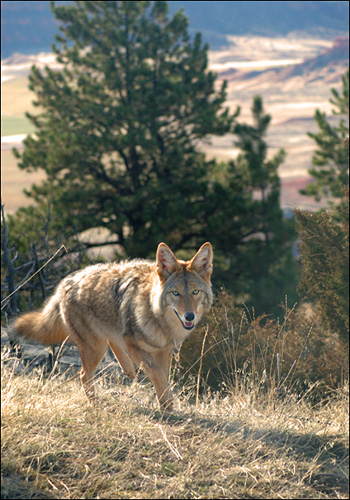 photo taken March 2009 • title thanks to Marquand
Beautiful words to go with a beautiful scene, from all of you!  It's a gorgeous early morning here, so I'll make this short & sweet ~ tied for runner-up are Sara with Smile E. Coyote, Michele with A Smile is Worth A Thousand Words, and Bethrusso with two: Walkin' On Sunshine -and- The Roamin' Empire.  Marquand, what else can I say, yours did it for me!  (Plus, in a sweet turn of phrase you note the Spring light & pastel colors, the lightness in his posture & optimistic attitude, and even tied in his adorable pointy hind paw…) Thanks to one & all ~ hope your day is as beautiful in one way or another as this morning is here! ~ S.
• • • I love these colors.  I love the feeling of this photo.  But honestly, I had a really hard time titling it when I sent it out in the Daily email…. so, for posterity and public permanence on this site, it is up to YOU to give this photo a proper title.
Please leave your title, caption, or Charlie-commentary in the comment section of this post.  The winner of this week's prize will receive a delicate obsidian arrowhead, hand-knapped by Mike, and a naturally-shed antelope horn.
If you missed my previous post on antelope horns, they make great chew toys for the canine in your life; you can slice up the solid upper end with a saw to make gorgeous buttons; or, of course, simply showcase it's natural beauty on your mantle or desk.  Enjoy!
332 Responses to "Spring In His Step"
Leave a Reply