A Looker Under The Cooker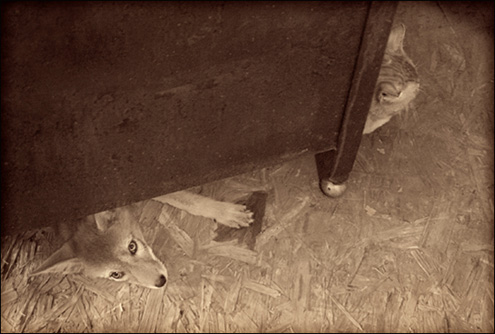 photo taken June 7, 2007 • title thanks to Bethrusso
Bethrusso, Queen of Puns, you've been in the top five of my favorites almost EVERY week.  I can't resist your cleverness any longer!  I love this rhyme, and while I'm partial, I think Charlie's quite a looker.  He's also the verb form of a looker in this photo.  Plus, this title honors one of my favorite winter hobbies: cooking in the woodstove (it also cooks us when I get it blazing).  Thanks Bethrusso!
Runner's up were HPmama's Hot Crossed Buns and LauraH's Warming Up To Each Other.  Many thanks to one and all!
• • • An oldie but a goodie ~ Charlie and Eli hangin' out under my woodstove in June.  Can't wait to see your take on this one.
Leave your title, caption, or commentary for this photo in the comment section of this post and you're in the running to win a prize that perhaps only rock-lovers like myself will appreciate (I know you're out there!) ~ two tiny parallel petrified squid embedded in stone, some sparkly lavender lepidolite, a slice of petrified bone from eons ago, and a few other goodies from the earth.  Rock it, and you'll win it!
269 Responses to "A Looker Under The Cooker"
Leave a Reply