There IS No Wall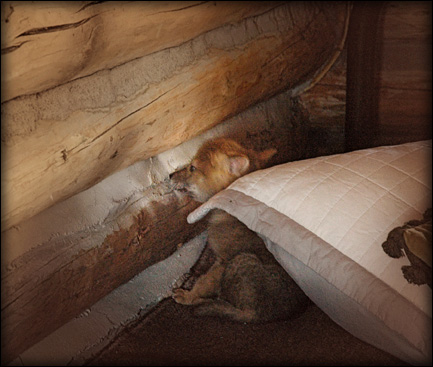 photo taken May 14, 2007 • title thanks to Karen
You all never cease to wow me.  Entries were so good, I couldn't choose.  So I let Charlie pick the winner.
Below is a list of the ten finalists, posted in the order they came in.  Below that is a video of Charlie picking the winner, which I think you all will enjoy.  Congrats Karen!  Great line, and Charlie certainly does live outside the matrix.
Someone Put Baby In The Corner
I Chink, Therefore I Am.
My Space
Naught. E.  Coyote
There IS No Wall
Red Headed Wood Checker
If you look REALLY close it looks like the Virgin Mary.
Reading Between The Pines
Reflection, No Mirror
Logging His Thoughts
Charlie Picks A Winner! from daily coyote on Vimeo.
• • • I don't have any idea what's going on here, and I was there.  So tell me the story you see, and leave your caption, title, or thought-bubble dialogue in the comment section of this post.  The quirkiest, cleverest entry will win a Wyoming care package, containing a number of goodies including an authentic Native American arrowhead that was half made, then discarded.  Mike found it last week and finished the other side.  It's of gorgeous linen-colored stone, two-toned as the original edges are weathered and the new edges are newly exposed rock, and measures 2.5 inches long.  Now, entertain me!
430 Responses to "There IS No Wall"
Leave a Reply