Big Bird? Haven't seen him, why?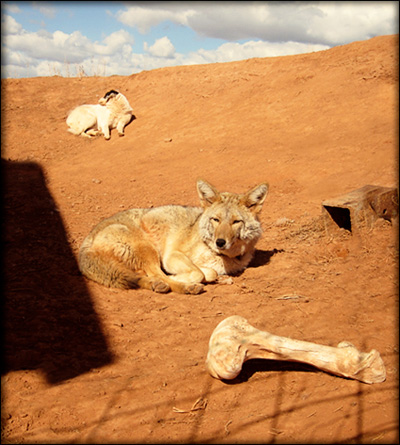 photo taken March 2010 • title thanks to Chris P.
Holy moly your submissions were fantastic.
And the Sesame Street theme?
My hat is off to you.
It was really hard to choose a winner this week.
This photo is brought to you by the letter "C": Chloe, Charlie, Calcium.
One, one big beautiful bone. ahahahahah (The Count)
A Bone, Coyote, Dog (ABCD)
"One of these things is not like the other…"
brought to you by the number 3
Sunny days, sweepin' the clouds away/ On my way to where the air is clean/ Can you tell me how to get, how to get to… Charlie's Treat! (Sesame Street Theme Song)
medium, large, and jumbone
Humerus Coyote
Dune of the Coyote
portion distortion
Inclined to Recline
The Bone Ranger and his trusty Sidekick
Wyoming Wormhole and the Woolly Boar
The Bone of Contentment
We're busy.
one year ago: Bovine Benetton Ad
two years ago: Wary Of Sunshine
This picture brings to mind Sesame Street.  For some reason.  Something in Charlie's expression, and oblivious little Chloe way up on the hill and the gigantic bleached-out bone in the foreground.  And the color of the sky.  And the clouds.  And the black angular shadows on the ground.  It's either Sesame Street or a David Lynch movie.  Can you give a name to a picture like that?  I can't, I have to write a paragraph, but I KNOW YOU CAN.
Leave your title, caption, or thought-bubble-commentary in the comment section of this post and you'll be in the running to WIN!  Hurrah!  This weeks prize will be one Charlie Calendar (because I just found a box of them I didn't know I had!  Get yours here, on super sale!) and a signed 5×7 print of this image (squeee!) OK, get to naming!!
199 Responses to "Big Bird? Haven't seen him, why?"
Leave a Reply