Fang Tango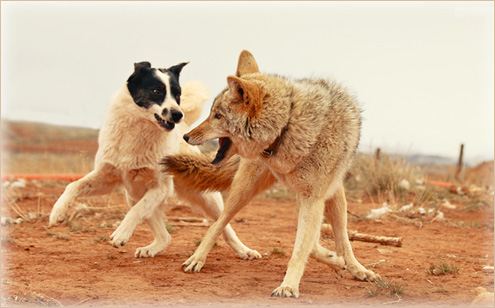 photo taken April 2010 • title thanks to Saxon
one year ago: Neck Nuzzle
two years ago: A Preview From Last Summer
Oh ho ho ha ha ah!  Y'all are good.
It's so fun to see all the angles that different people tune into.
Saxon, yours is fantastic!  Love the play off of fandango.
And tied for second place:
Tensleep twostep! er fourstep! er eight step! er elk leg ballet!
Thriller…on the Hiller
Twisted Sister
Buddy-Pest
Snappy Comeback
Give me a break, Chloe!  Try doing the tango with two left feet.
Aprol fools.
Chloe attempts to herd Charlie . . . with mixed results.
All they need is a piano.
"Dancin Days  Are Here Again"
Pirouette Duet
Hut one… hut two… HIKE… HIKE!!
hip hop
Sibling Quibbling!
Chloe ain't no howler back girl!
• • • Happy Holiday for those of you in the USA, and happy day or night to those elsewhere!  I'm in a major blueberry ecstasy coma at this very moment and words seem so…. elusive right now.  So I'll just say do your thang!  Give this photo a title, caption, or talking bubbles and we will read them and laugh and marvel at the varied minds that take part in this little Monday ritual.
Prize will be… a print of your choice!
187 Responses to "Fang Tango"
Leave a Reply