To Rub Or Snub: That Is The Question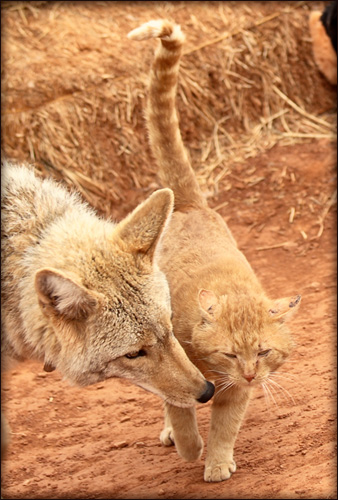 photo taken April 2010 • title thanks to Carrie
one year ago: Ode To Eadweard (Muybridge)
two years ago: Tiny Muffin
Carrie, yours has me cracking up. LOVE. It's *so* Eli.
Fantasticalness all around!  Thanks to all!
The Howl and the Pussycat
I love you a bushel and a peck and a sniff around the neck
Orange you in love?
…Anything else, Sir?
Calvin and Hobbes
The Beige Brothers
"Let me catch your breath"
Perfect Blend
Orange Crush!
"Okay, Bro. I Love you too, but look at all these people who are watching us! Tone it down a bit."
walkie – talkies
The Golden Rule: He who is golden, rules.
Muzzle Nuzzle
Intoxi-catted
Space Invader
Cat Power
Just a Perfect Blendship
A Revealing Tail: Eli Loves Charlie, Too
Orange they cute together?
• • • Charlie and Eli ~ the archetypal yet atypical BFFs, at least according to Charlie.
Oh, how this coyote worships this cat.  Still and always.  He LOVES him.
Eli's pretty darn fond of Charlie, too, though, while Eli can be almost annoyingly needy for affection with me, he always maintains that classic "I'll let you love me" cat thing with Charlie.  And so when he does rub against Charlie, Charlie nearly faints with delight.
Name this photo!  I can't wait to see what you come up with!  Leave your title, caption, or thought-bubbles in the comment section and you'll automatically be in the running to win!  This week's prize will be…. a big surprise ~ I have a feeling I will find it tomorrow…. Mystery!
269 Responses to "To Rub Or Snub: That Is The Question"
Leave a Reply