Chomping at the Yip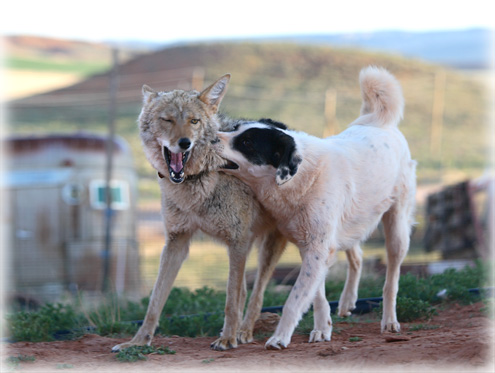 photo taken May 2010 • title thanks to Roxie
one year ago: Behind A Tree
two years ago: A Peeing Deer
Applause, as always!!!!
Ruff love
I got you, babe!
Scrough love
Sharing a Bite
"Ruff" Neck
A Cur with a Mouthful of Fur
Taking a chunk from the hunk.
"I Wanna Nom Your Scruff"
Neckin'
Mmmmm….Chuck steak!
Ears Cocked ~ Mouth Locked
Ruff Treatment
A pain in the neck.
Rough Scruff
• • • Oh, these two.  The expressions!  Heart is melting, face is smiling….
and I hope your fingers are clicking ~
title this photo and you're in the running to wiiiiiiiiin!
I've been hoarding antlers and I think I'm going to pry one away from myself
and send it off as the prize this week.
One full, gorgeous, naturally shed mule deer antler
in all its stunning glory.
To the wittiest!