Breakfast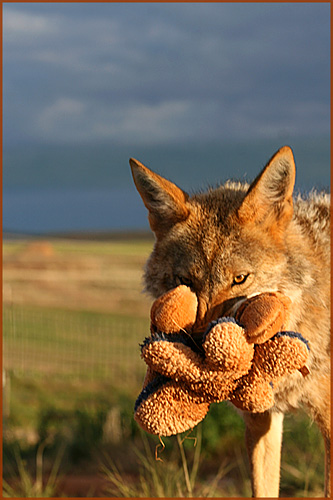 photo taken June 2012
one year ago: Sweet Sleepy Sun Glutton
two years ago: The New, Surrounded…
three years ago: Springtime Stroll
four years ago: The Cat Commandeered The Coyote Bed
3 Responses to "Breakfast"
I Hermit Says:
August 7th, 2012 at 4:33 pm

Now I filled the toy box, the back shed, and the under the porch space, when Mom said "Clean up your act"! Was that figurative or Literal?!

wright1 Says:
August 7th, 2012 at 9:16 pm

Oh, what absolutely stunning colors in this shot: the blue-grey twilight under the clouds, the green land with hints of orange, finally his orange-hued ears and stuffie…

And the sense of sky and land going on and on behind his sharply-focused ears… Deeply refreshing.

carmel Says:
August 7th, 2012 at 11:52 pm

Breakfast…the main meal of the day…!!
Leave a Reply