Feathered Dusting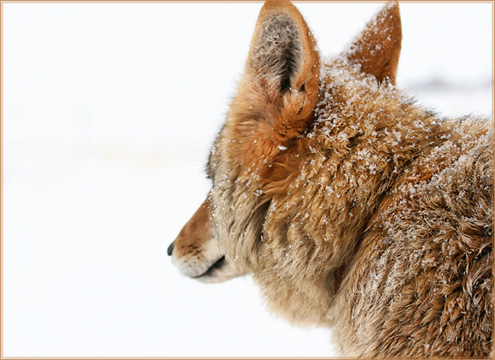 photo taken January 2013
one year ago: Dotty
two years ago: Winter Freeze Frame
three years ago: Faux No
four years ago: Photographers And Dreamers
five years ago: Coyote For "I Was Here"

3 Responses to "Feathered Dusting"
Dennis Says:
March 7th, 2013 at 11:08 am

I love the contrast in the colors, what few there are.

This picture reflects just how God has created Charlie to be able to grow a thick winter coat for his comfort, to with stand the harsh cold winters he walks and plays in.

What's striking, is the dusting of snow flakes upon this beautiful boy.

wright1 Says:
March 7th, 2013 at 3:32 pm

Magnificent capture of textures: wooliness of his coat, the grainy snow. Framed by the near-total white background. Masterfully done.

m.v. Says:
March 7th, 2013 at 7:55 pm

re twitter: Mushie on Sir Baby's back? Were the three of you going for a stroll? It would have made a great video.
Leave a Reply