To Be, And Beyond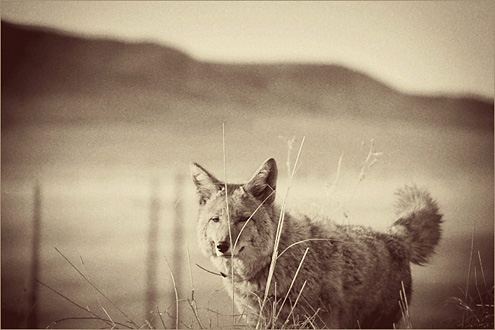 photo taken March 2013
one year ago: Sliver Of Song
two years ago: Prize Pheasant
three years ago: Urchin
four years ago: Popping Up To Say Hi
five years ago: Trying To Fly

2 Responses to "To Be, And Beyond"
m.v. Says:
May 13th, 2013 at 10:30 am

re: sandhill cranes in yard. Wow!
I wouldn't be able to work. I would spend the whole time watching them.

Dennis Says:
May 13th, 2013 at 11:53 am

This is a very.interesting story picture, For Me!
Here's A Coyote, traveling the open grounds, on a hunt, looking for a mate, then it realizes, something is different, it notices the stakes, or fence post in the back ground, the coyote now proceeds with caution, humans must be near.
Again….I like these tones and slight grainess of the picture and special affects along the border…..Just my take, on how this picture spoke to me….Enjoyed very much…!…….
Leave a Reply