Groundhog, I warned you! I've had enough winter!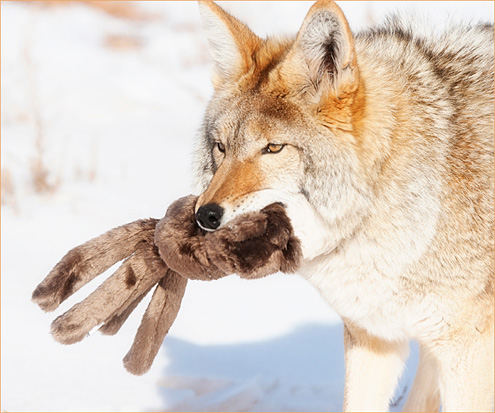 photo taken January 2014
Truth: the reason I stopped doing the caption contests was because it was too hard to single out a winner each week. And it was hard this morning. But Heidi, you nailed it, and I think you speak (through Charlie) for us all!  I'll be emailing you to set up your prize.
Honorable Mentions:
FURthering his collection
No, really. I'm stuffed.
Canis Major loves Ursa Minor
I see your antler chew and raise you this bearsquid
Thanks to one and all!
The caption contest is back!  At least for today…. let's have some fun.
Think up a caption for this photo, leave your wit and brilliance in the comment section, enter as many times as you like, and I'll do the agonizing work of choosing a winner.
The winner (announced here, Tuesday morn) will receive three free months of the Daily Coyote subscription: daily pics of Charlie emailed directly to you, well in advance of when they appear here on the blog and much bigger, to boot. Yeehaw!
one year ago: Diamonds & Topaz
two years ago: Charlie And His Carpet
three years ago: Comfort Toy
four years ago: Fluff Ruff
five years ago: Wow! Chloe is so big!
six years ago: YES! CHARLIE IS OK. LIKE RIGHT NOW, THIS VERY SECOND! IN FEBRUARY.

39 Responses to "Groundhog, I warned you! I've had enough winter!"
Leave a Reply