Snownose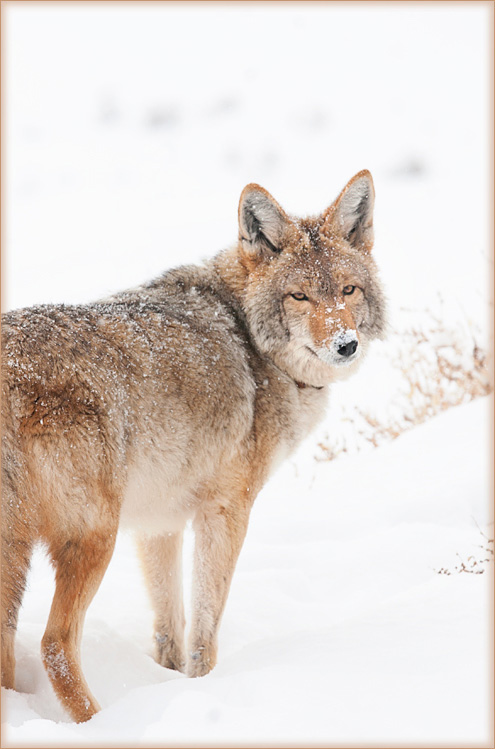 photo taken February 2014
one year ago: Grace
two years ago: Red White & Blue
three years ago: Looking Forward
four years ago: Moody Views
five years ago: Eagerly In A New Direction
six years ago: Watchers

3 Responses to "Snownose"
carmel Says:
March 20th, 2014 at 10:57 pm

Snowcute

Jenny C Says:
March 21st, 2014 at 5:41 am

Gold – dusted with silver and white.

Ted Says:
March 20th, 2017 at 5:25 pm

Hi – I just finished your cute and well written book about Charlie! It was a real page turner for me and recommended by a friend. It is a great story and well told.
I am happy to see and hear that you are both alive and doing well in 2017. It would seem that you are lucky that Charlie has lived this long. Or maybe not being brought from the wild I don't know what the life expectancy of a domesticated Coyote is.
I am a great admirer and advocate of Wolves living in the Denver area and know how Wyoming deals with predators. You are fortunate to have made it so many years successfully living and taking care of Charlie.
Thanks for sharing this wonderful story with me and hopefully your family of animals live a safe, happy and long life.

Ted

P.S. I like your website and hope to join for a daily dose of Coyote!
Leave a Reply