Sneak Peek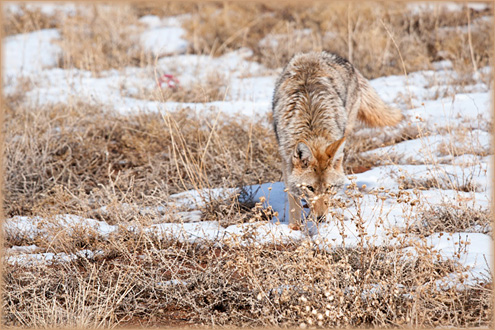 photo taken April 2014
one year ago: Slap Me Some Skin
two years ago: Breezy
three years ago: Quack
four years ago: Tough Guy In Soft Tones
five years ago: How To Massage A Cat
six years ago: Fluff

One Response to "Sneak Peek"
Patty Chadwick Says:
June 7th, 2014 at 6:01 pm

Several years ago, I made a Sioux plains style Hand drum. When it was completed, I painted a three-quarters view of the head of a coyote on it. It sits on a shelf, smiling down at me now. I never play it, because EVERY time I did, something annoying would happen…nothing big, just irritating and frustrating. I finally decided It was a real Iktomi (trickster) drum…so be it (it did have a good voice). Your beautiful animal looks much like the one I painted. I had a wolf hybrid…my soulmate for 9 short years. Hearing your story, seeing your pics. reminds me how terribly much I miss him…good luck with your pup!
Leave a Reply