Charlie's First Snowball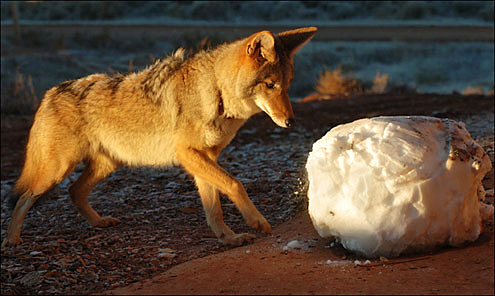 photo taken October 2007
I hope you will forgive me for posting a "re-run" picture today.
I have a lovely inner ear infection which has kept me from taking any new photos of Charlie for a few days – my equilibrium is so out of whack I am walking into walls, and I fear adding a camera and one closed eye to the equation would be a bad idea (for me and the camera).
This photo is one of my favorites – it's Charlie's first experience with snow.  This was in the fall of 2007 – it hadn't yet snowed in the valley (though it was cold and frosty), but it had snowed on the mountain. Mike was on the mountain one day and made this giant snowball for Charlie, put it in the back of his truck, and delivered it to us.
As you can see, Charlie tentatively explored the giant snowball, and then, when it was deemed "friend," not "foe," he pranced around it, licked it, bit it, rolled on it, and had a grand time.  He still loves snow so much!
one year ago: Day In The Life
two years ago: Fairytale
three years ago: Just A Taste
four years ago: Sometimes He's Sulky
five years ago: Trying To Catch A Snowflake
six years ago: Grovelling For Acceptance
seven years ago: Horizon Fire

11 Responses to "Charlie's First Snowball"
Leave a Reply