Bushy Tailed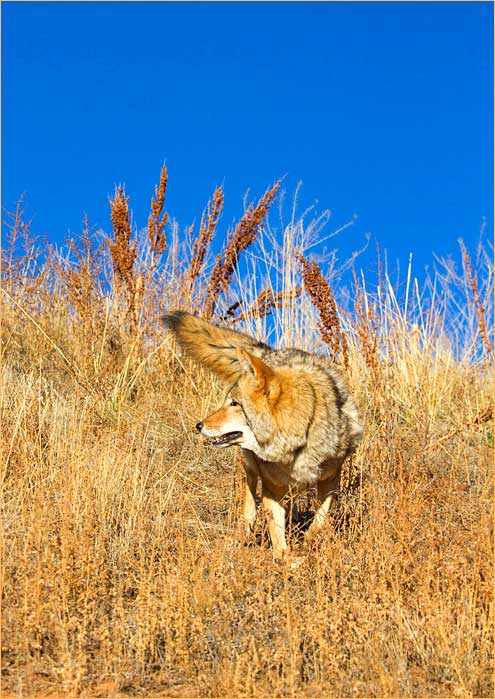 photo taken November 2015
one year ago: Bwaaak
two years ago: Sweetest Pea
three years ago: Lightworker
four years ago: Jaws
five years ago: Prince Charlie
six years ago: Loophole
seven years ago: Symmetry
eight years ago: Serious Camo

3 Responses to "Bushy Tailed"
bonnie Says:
December 8th, 2015 at 3:04 pm

and cheeks too! just gorgeous!
and about those ravens — they are beautiful,and might be entertaining in the winter, but if you let them stay, you can say goodbye to any chicks you were hoping to have around, and to any smaller birds that try to nest nearby in the spring.

Jenny C Says:
December 8th, 2015 at 3:43 pm

Ready for Wyo winter, to the very top of his exquisite tail.

wright1 Says:
December 8th, 2015 at 3:55 pm

An amazing composition, you are upping your game alright.

The stark, clean blue of the sky, the cinnamon brown and golden yellow of the dead stalks, the sharp granular texture of the hillside in contrast to the flowing patterns and softness of his fur… exquisite.

More, you seem to have caught him in mid-step, alert but relaxed as he turns his head to inspect something his nose and enormous cinnamon ears have caught. It's clear the central focus of the image is a dynamic one, inviting everyone who looks at it to imagine what he might be looking at… and what might happen next.

Thanks again, Shreve.
Leave a Reply