Artisan Venison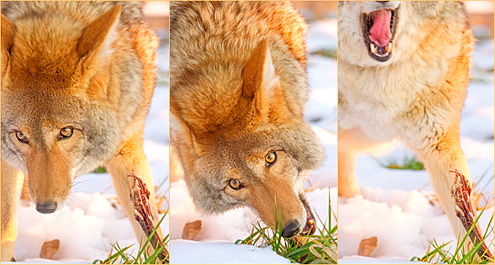 photos taken November 2016
Charlie, having the refined tastes he does, eats a lot of venison.
This fall, Mike got Charlie a deer. And, as I've done for a few years now, I butchered the deer. We clean the kitchen island so it's sparkling and free of clutter, and I line up knives, cutting boards, a sharpening stone, butcher's freezer paper, tape, and a sharpie. Mike brings me quarters at a time, and I cut and trim and package and label. Meanwhile, Mike cooks venison tenderloin for dinner. I trim the deer meticulously, so that nothing goes to waste. I save the bones for broth, I save the fat to mix with birdseed for the doves and sparrows, and I save a few random scraps for a fox that is living in our neighbor's haystack. My favorite part, though, is what I do with the rib cage. I leave the meat on the rib bones, and I leave the rib bones long. I cut between each rib, to separate them, and then hang these meaty arcs on the clothesline to air dry into jerky. Wild-harvested, sun-dried, organic, raw venison jerky-covered rib bones! Charlie LOVES them. They are his special treat through the winter.
He is enjoying one in the photos above.
one year ago: Under & Out
two years ago: Belly Deep
three years ago: Between The Rails
four years ago: Ridgeline
five years ago: Flufferbutt
six years ago: Bullies
seven years ago: Queen Kong!
eight years ago: Grasshopper
nine years ago: Remember Your Innocence

10 Responses to "Artisan Venison"
Leave a Reply