In The Light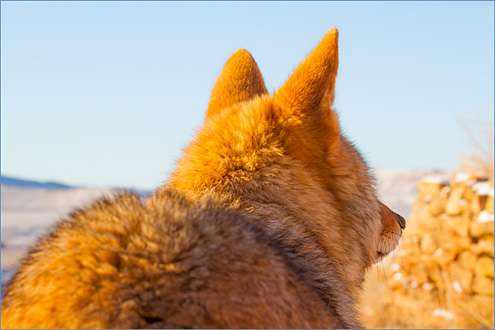 photo taken December 2016
one year ago: Solstice
two years ago: Beauty, The Beast
three years ago: Gettin' Serious
four years ago: Wonderland
five years ago: Meadowed Mystery
six years ago: Spot Of Sun
seven years ago: Drifting Into Winter Days
eight years ago: Precious Package
nine years ago: Deep In the Weeds

3 Responses to "In The Light"
wright1 Says:
January 11th, 2017 at 2:53 pm

Gorgeous golden floof! I can almost feel it between my fingers.

Jenny C Says:
January 11th, 2017 at 6:45 pm

Ridges: black fur tips, fur beneath the ear and the deep blue mountains.
Interesting perspective, looking from behind.

10 years, and not a single shot of Charlie, or any other gorgeous farmily member, is ever routine or ordinary. Always beautiful, always breathtaking. Thank you, Shreve, thank you. ❤️

Sandy G. Says:
January 12th, 2017 at 2:41 am

Beautiful colors, view, fur, ears!
Leave a Reply