Counting Sheep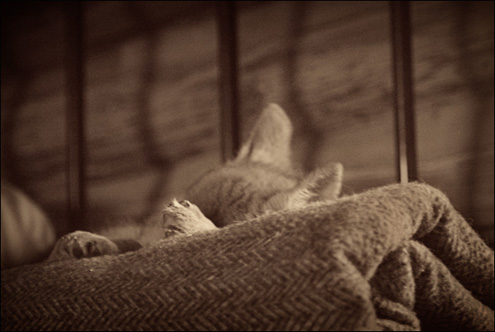 photo taken May 22, 2007 • photo title thanks to Mimi
UPDATE: WOW! Awesome day with comments. Geniuses, the lot of you. I'm going to make this a weekly event.  I've closed comments on this post as of now, 12:30pm EST, because I have a baby calf spending the night inside with us tonight and I know it's going to be a crazy morning.  Tomorrow at some point I will post about the baby cow in my house AND post the winner of the contest – that part is going to be tough. Thanks, all of you!
• • •
Comments are open today, folks!
I'm feeling like a daredevil, what can I say.
My favorite, most-missed part of having comments open were the alternate titles and captions you guys would leave for the daily photo.  That's what I'd love to see here.  Titles, captions, even Charlie-thought-bubbles… leave yours in the comments.  THE WINNER (either I'll pick my favorite, or I'll have MC pick a random number, I haven't decided yet) will get a signed copy of my book, The Daily Coyote.  Now show me your brain on Charlie!
361 Responses to "Counting Sheep"
Leave a Reply