Bon Ami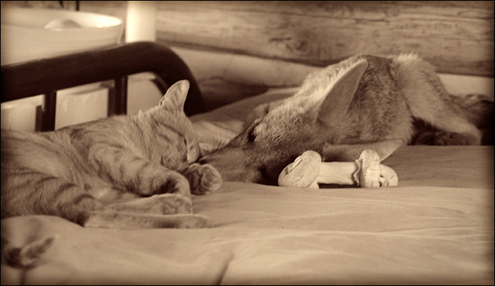 photo taken July 9, 2007 • photo title thanks to Juliene
UPDATE: I'm in awe, that's all I can say!  What entries!!!  Truly great.  Juliene, I pick yours.  I love how you tied in the two major elements of the photo with such clarity and cleverness.
Again, I had a list of runner-ups to post here but realized it was pages long, so really, if you haven't already, click over to the comments on this post and have a read through.  I promise you will laugh out loud and your heart will melt, many times over.   Thanks everyone!  Come again for round three, same time same place, next Mon.
• • • Here we are again, another caption comment contest! To recap: My favorite, most-missed part of having comments open were the alternate titles, captions, and thought-bubbles you guys would leave for the daily photo. That's what I'd love to see here. This week's prize is a gorgeous naturally shed antler from a whitetail deer, which I especially love because they look like candelabras.
473 Responses to "Bon Ami"
Leave a Reply