Home, Sweetheart. Home.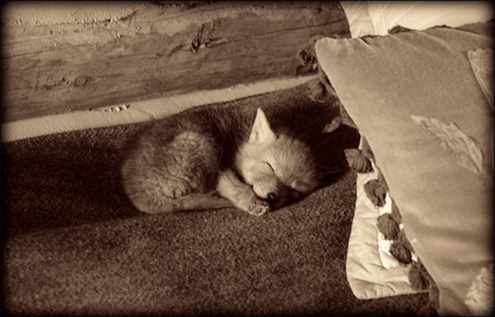 photo taken May 12, 2007 • title thanks to Julie
The first few weeks of open comments, you made me laugh hysterically.  Last week you made me melt.  This week, you made me cry.  As I read through the entries I became weepier and weepier, overcome with sentimentality as so many of the comments were in the vein of safety, home, belonging, and…. The Choice.  The Choice I often forget about: the choice of keeping Charlie (and implicit in that is the gentle reminder that there was a moment when it could have gone the other way).  And then I got to Robin's comment: Whispers: "I've decided to keep him." "O.K. Let's name him Charlie." and totally started crying.  Later, Mike stopped by and he loves hearing your comments and when I read him that one, he got tears in his eyes!  Bravo, Robin, for making us both cry.  I'm sending you an honorary calendar for that.
There were hilarious ones too, as always: Lizzie, Hans-J, Sha, Dave Wallace – you are amazing and a bit demented, my favorite combination.
For the title, I chose Julie's.  Many of the entries helped build an incredibly powerful sense of comfort, home, and belonging.  Julie, yours encapsulates that emotion cleverly, succinctly, beautifully, and makes my heart swell.
After reading every comment, I am still without words – the emotion and brilliance you all display in this tidbit of creativity that you share with me is so remarkable, and so powerful, and I am honored to be a part of it all.  Thank you.
• • • This picture is cute.  It's very nearly the pinaccle of cute.  It's so cute I can't put words to it, having been rendered idiotic, glassy-eyed, and drooling by the cuteness.  It's up to you to do what I cannot: leave your title, caption, or Charlie-thought-bubble for this picture in the comment section of this post.  The cutest caption wins the cutest prize to date: an 8 x 10 photo of Charlie as a baby (I can't find the link here at the moment but it's the picture on the back jacket of The Book), a 2009 Charlie Calendar (it's still 3/4 useful!), and an "I ♥ Charlie" window sticker (hilarious and one-of-a-kind).  Cannot wait to see what you come up with!!!
443 Responses to "Home, Sweetheart. Home."
Leave a Reply