Charlie Hunt, Chloe Cook!!!!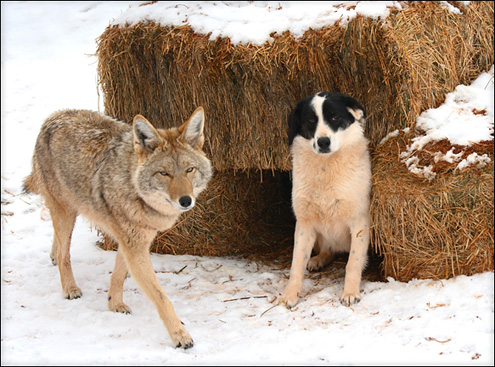 photo taken February 9, 2009 • title thanks to Karen
Again, I am just so blown away by y'all!  My burly, badass, ex-bullridin' buddy is hanging out with me today and we went through all the entries, giggling and practically rolling on the floor.  I urge you skim through the comments if you need a few chuckles today.  Karen Hanson, you da winner!  Classic. And ALL of you are second-runner-up.  Thanks, one and all!!
• • • This photo was taken four months ago, but we might have a repeat of the scene in the next few days – the forecast is calling highs in the 40′s and possibly even snow.  I'm praying that it skirts my house; I'm not ready for my garden to die just as it's getting going!  I might have to borrow all of Mike's chickens and have them sit on my little plants.
But in the meantime, we will play: leave your title, caption, or commentary for this photo in the comment section of this post and be in the running for a very cool prize: an unmatched pair of pronghorn antelope horns.  If I were to come back as an animal, I'd love to be a pronghorn.  They have the greatest faces.
The horns are strange and wonderful.  You can use them as decoration, of course, or you can pass them off to your canine friend ~ they are a favorite chew toy around here.  The upper part of the horn is solid, and you can saw it into rounds, drill two small holes in the center of each round, and polish them up to make fantastic buttons.  How many people have antelope horn buttons closing their cloaks?  Enjoy!
283 Responses to "Charlie Hunt, Chloe Cook!!!!"
Leave a Reply