Beat It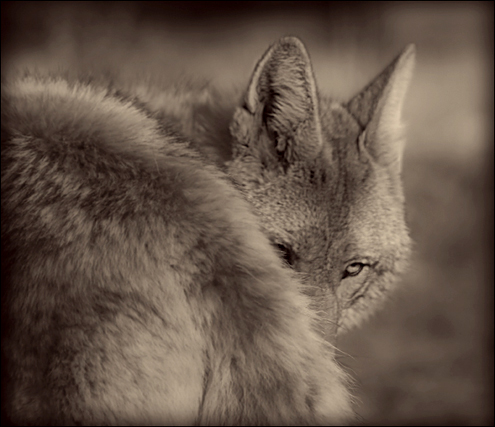 photo taken March 2009 • title thanks to Kathy B.
Wow. Your entries hit the ground running with with Monday Mood – Come Back Tomorrow and just didn't stop.  So many amazing entries.
Vampeyer
Mesmer-eyes
Peek-a-Booty
Lookin' Fierce
Sly Dog
Shyly Coyote
Hear some evil.  See some evil.
Hindsight
Tail-gazing
If looks could kill.
Over-Shoulder Once-Over
"Objects in my rear view are caught more than they might fear."
Heads I Win, Tails You Lose.
Primal, by Calvin Klein.
Soul'r Power
There were a few nods to Michael Jackson: Smooth Criminal by Lisa, Thriller by Audra, and Beat It by Kathy B, who writes: "as a tribute to MJ, but also what I think he's saying with his eyes."  I agree, and chose this as the title, for as confusing as he became and remained, I loved that guy in 3rd grade in a way that was never paralleled by any other celebrity.
• • • The many faces of coyote ~ Charlie shows us them all.  This twist a classic pose – I swear Charlie is made of rubber.  His gaze, however, is not.  I look forward to seeing what this snapshot of Charlie says to you, so leave your title, caption, or Charlie-commentary in the comment section of this post and you will be in the running to win a signed print of THIS image (another classic!).
403 Responses to "Beat It"
Leave a Reply