"WWED?" (What Would Eli Do?)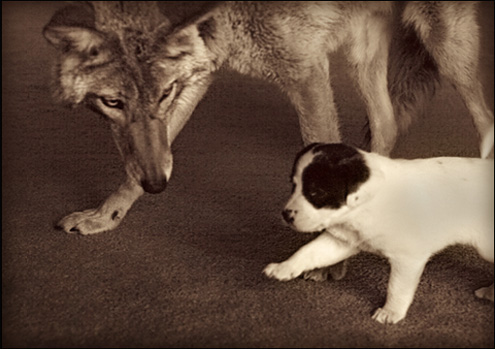 photo taken May 9, 2008 • title thanks to Ava
Ava, I cannot stop laughing at your entry.  I laughed when I saw it yesterday morning, I laughed when I read all the entries last night, laughed when I read over the new+saved ones this morning, and laughed again just now as I was narrowing them down.  LOVE IT.  Pure genius.  Hilarious.
Other fav's:
Pointing the Way
Two step
Are you staying?
Toddlin' and Ogglin'
A tot in tow.
Stumped by stumpy
Completely Puplexed
Wild and Beguiled
Pup, two, three, four…
Puzzled by the new muzzle
Confused, bemused, and a little amused
Shall we prance?
Her entrancing entrance.
Ears Looking At You, Kid
Of course I love all of you for entering, hopefully that goes without saying.
• • • I found an old folder.  In it, this photo from Chloe's first day with us. She is so cute and confident!  And Charlie… Charlie was so perplexed; that first day he was actually worried this fat little puppy might hurt him.
They are so amazing together (then and now…)
Leave your title, caption, or thought-bubble-commentary in the comment section of this post and you'll be in the running for a batch of petrified squid and a stunning arrowhead deftly made by MC this weekend with nothing but a bit of stone and the point of a deer antler.  And some beautiful feathers I found.  I can't wait to see what you've got for this one!
377 Responses to ""WWED?" (What Would Eli Do?)"
Leave a Reply