Sibling Revelry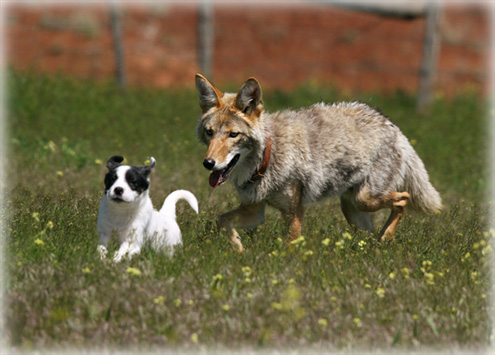 photo taken May 2008 • title thanks to Nash
So many fabulous entries this week – such a great mix of clever and sweet and totally funny.  It's so hard to whittle them down.  But whittle them down I did, with a smattering below which will hopefully inspire a few morning giggles.  Hats off to Nash, for the winning caption.  Revelry – what a perfect word.  What a wonderful word.  And the pun put it over the top.  Thanks one and all!
Wildflowers and Wild Howlers
Spring Forward, Ears Back
One small step for Charlie, One giant leap for Chloe
What's that Chloe? Shreve is trapped in the well? Show me girl!
Prances with Coyote
The Yellow Blossom Road
Frisky Business
Spring In Her Step
Spring-Loaded
Youth, Spring, Eternal
Prairie Home Companions
Trot with the Tot
Happy Feet
He's Hooked
Puppy shot and a Coyote chaser
and the funniest entry of all:
Sorry, all I got is the theme music from Little House On The Prairie!
• • • Charlie!  Chloe!  Sunlight!  Blossoms!
I'm all used up from writing that last post so: you know the drill, ladies & gents!
Prize is….. a svelte arrowhead.  A rock full of sparkles.  And some other goodies from WY as yet to be determined!
On your marks, get set, go!
281 Responses to "Sibling Revelry"
Leave a Reply