Untamed Melody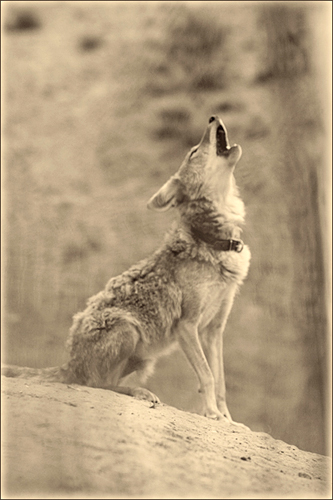 photo taken June 2009 • title thanks to Michelle
Arwo & Dinah, loved your nods to Ginsberg's "Howl":
Baring His Brains To Heaven
"I saw the best minds of my generation destroyed by madness, then I chewed on an antler for a while, had a nap, and felt much better."
Sue- WOW. My hat is off to you:
Looking #
(If you don't read music, you won't get this one!)
A handful of greats:
O Sole Mio
Latransmitter
Lone 'Yote Note
A Cappella Fella
Wild thing, you make my heart sing!
I'm a SOOOOOOOOOOUUUUUULLLL Man!!!
Whooooooo Neeeeeeeds a Rooooosterrrrrrrr?
Eli – Eli – OOOOOOOO
Yip-YIP-Hooray!
Lunar Crooner
Coyodeling
Voice Mail
For the title, I chose Michelle's Untamed Melody ~
I love the twist on "Unchained Melody."
There's a part of each of us that remains untamed- the strong, free, unapologetic beauty that makes people stop in their tracks- that's what Charlie's howl is to me….
• • •
This weekend I was up the mountain getting firewood, as I do in all my spare time, and a log slipped from my leather-gloved hands and took the tip of my leather glove and all the skin off the pad of my finger with it.  It was gross (but nothing that won't heal in a week or so).  In the meantime, I cannot type well at all!  I will write more about Daisy & the baby bull (see pics below) and answer all your Q's (just leave them in the comment section of that post) just as soon as my finger is fully functional again.
Now, if anyone can put words to an iconic image, it's the lot of you.  Leave your title, caption, or perhaps Charlie's message in the comment section of this post and you will be in the running to win a thumbscraper (this is a true Native American artifact that Mike found the other day and gave to me expressly as a prize for you), a dionsaur gizzard stone (click here for a refresher if you don't know what I'm talking about), and a special spherical stone, quite unusual.
339 Responses to "Untamed Melody"
Leave a Reply