Butte-y licious!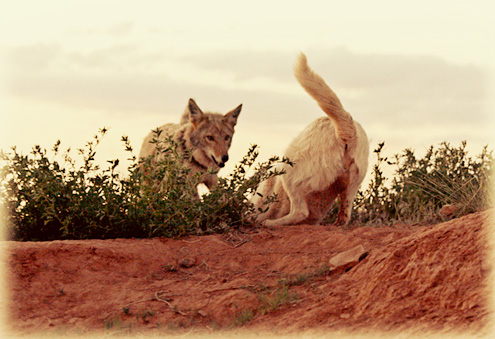 photo taken June 2009 • title thanks to Diana
HA!!! Love it, Diana.
Also loved:
I Dig You!
Heads and Tails
A Butt on the Butte
Moondoggie
Headbutt
Tongue & Cheek
Son & Moon
Drawing Him Into the Draw
Sweet Cheeks
Waving the White Flag
Coyote and a Full Moon
Here's to Summer – Bottoms Up!
Um Chloe? You can't 'actually' dig all the way to China. Eli was just teasing you.
Thanksthanksthanks to one and all!!
• • • Late evening, early summer play…..seems so far away…
Now it's dark at 7pm (soon it will be dark at 4), and the simplicity of summer feels like another lifetime, replaced with the mad dash of preparation before winter sets in.  Getting load after load of firewood.  Final improvements on the homestead until work can resume next spring.  Updating and reinforcing the corrals and shelter for the large animals.  It is non-stop work.
So take me away, Internet, to a time of butterflies and balmy nights, when the most important thing was PLAY.  Leave your title, caption, or canine commentaries for the image above in the comment section of this post, and you'll be in the running to win a print of another summertime scene (click HERE to see it)
xoxo S.
215 Responses to "Butte-y licious!"
Leave a Reply