2 Pieces Of Peace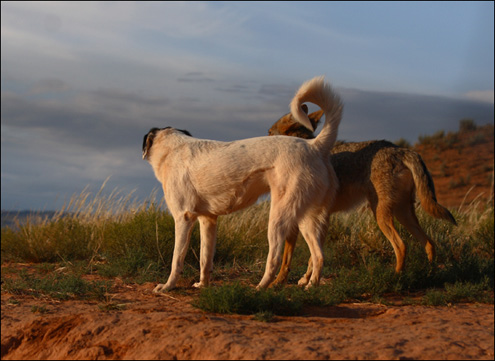 photo taken July 2009 • title thanks to Wo
Well, this photo brought out the philosophers in you, and I loved reading all the entries.
Some profundities:
"Standing in the Light Seeing" ~ a Lakota way of thinking
Dog Days of Summer/ Fleeting Faster than We Know/ Take a Moment to Reflect ~ a haiku by D'Ann
"Love do not consist in gazing at each other, but in looking outward in the same direction." ~ from The Little Prince
Brother Sun, Sister Moon
Two impossible friends at birth,
now joined by fate and enjoy this earth.
All of us live under the same sky.
"Clouds come floating into my life, no longer to carry rain or usher storm, but to add color to my sunset sky." ~ Rabindranath Tagore
And for some comic relief:
HOOK TAIL AND SLINKER
"I told you the view from here would curl your tail"
• • • Who needs Calgon when you've got a photo like this.  Ahhhhhhhh.  I needed a deep breath like that, and a few more.
While I'm out re-balancing myself with the Farmily, please enter this week's contest by leaving your title, caption, or commentarty for the photo above in the comment section of this post.
I have one more Halloween-themed prize: a black obsidian arrowhead, made by MC; some sun-bleached bones; and a small, perfectly intact skull with working jaw and everything!
282 Responses to "2 Pieces Of Peace"
Leave a Reply