Chloe & Charlie Both Ate Different Mushrooms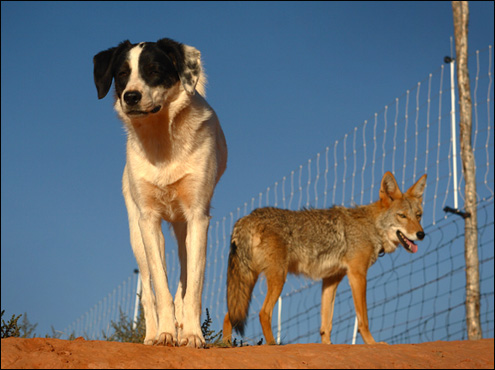 photo taken August 2009 • title thanks to D'Ann
one year ago: Cooling Off Like A Kid
two years ago: Swimming The Grass Ocean
I simply can't pass up a great Alice in Wonderland reference ~ D'Ann, you have a mind sister to mine!
True to form, entries were superb!
Here's a smattering of some fantastic angles on the pic:
"Attempted assault on a roadrunner–what are YOU in for?"
Darn, Daisy spiked the ball again!!!
Shawshank Redonkulous
Great. We're Out. Now, how do we get back in…
Badges?  We don't need no stinkin' badges!
Squint Eastward
Charlie and the BeanStalk
Depth Perception:  It's All "Relative"
"L" of a life!
From C to Shining C…
"Big Little Sister"
Border (collie) Patrol
Long Cool Woman and a Sharp-Eared Man
"Because you're mine, I walk the line"
• • • Hello Monday!  I feel silly typing in the directions every week but I shall, without further ado: to enter the famed and delightful Monday Caption Contest, please (won't you please?) leave your title, caption, or canine thought-bubbles for this photo in the comment section of this post.  Not only will your witty words be marveled over (or laughed at) by many, you will automatically be in the running for this week's prize: a 2010 Charlie Calendar (this photo's in it; click HERE to see them all!)
301 Responses to "Chloe & Charlie Both Ate Different Mushrooms"
Alma Alexander Says:
November 17th, 2009 at 2:41 pm

…unh. Let's try this again, with actual ID info.

SHE's in"A Star is Born", I'm doing "The Great Escape"… how is this relationship ever going to work out…?
Leave a Reply