Come away, oh human child / To the waters and the wild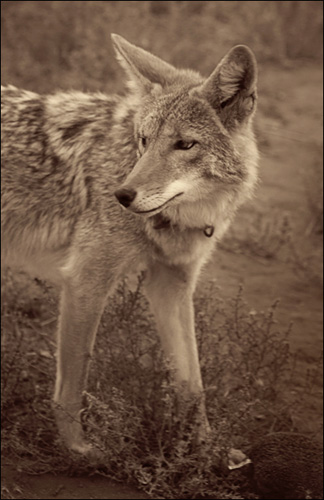 photo taken August 2009 • title thanks to Karen
one year ago: Easy Summer Afternoon
two years ago: Still Life With Bone
Come away, O human child!
To the waters and the wild
With a faery hand in hand,
For the world's more full of weeping than you can understand.
I've mentioned it before and must say it again today ~ quote Yeats, and you've got me; he speaks to my every cell.  And the full "chorus" from the poem quoted by Karen… well, I've copied it above; they were perfect words for my yesterday.
Also perfect for my yesterday: getting to read all the entries and poems (go read them in the comment section!) left by all of you.
They were Lovely, Dark and Deep; proving that we all See A World In A Grain Of Sand when we decide to; that freedom is knowing that Time goes one way – I go another; and that sometimes, even a handsome coyote is subject to Pillow Pelt In The Morning.
• • • This photograph is a bit more somber than the usual caption photos ~ we know the punners are at the top of their game, this week is for the poets.
Please leave your title, caption, or Charlie-commentary in the comment section of this post and you will instantly be in the running for a signed copy of my book, now in paperback! Woo me with your words.

261 Responses to "Come away, oh human child / To the waters and the wild"
Leave a Reply