Apparently It's Not Eli That Charlie Bows To, It's The Color Orange.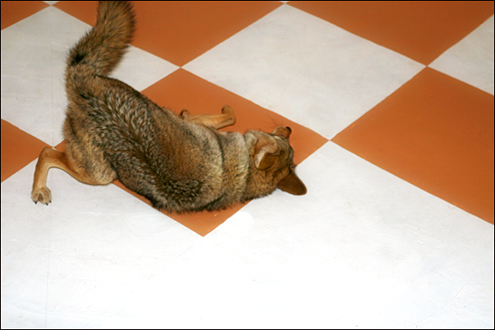 photo taken November 2009 • title thanks to laura h.
one year ago: Self Expression
two years ago: Another Leg
If you have not read the comments on this post, I can only assume you are a masochist. Read them! It will make your day better and you will laugh.
PS: White is Lava! Orange is Safe!
I currently have 178 entries tied for first place and some animals that need attention so I will be posting the winner this afternoon!
I've been revamping my floors.  This floor is a poured concrete slab which Mike & I did ourselves and let me tell you, it was a horrible job.  Horrible both in the doing and in the end result.
For those who've not had the pleasure, pouring a concrete slab is a race against time, shoveling concrete madly as it shoots out of the truck (concrete is heavy!) and then trying one's best to level it and smooth the surface before it gets tacky.  Well, my floor ended up just plain tacky.
The final result, after such wretched, strenuous labor, was a plain, unfinished concrete slab ~ ugly, uninspired, dreary… altogether yucky.  Also extremely difficult to clean, as concrete is so rough and porous.
In late Fall, Charlie's instincts come to the fore and he gets very concerned about his territory ~ in the wild, this is the time of year when coyotes are searching for and/or defending their territory.  And so he marks it ~ a bit on his food dish, a bit on his bed ~ and while it's not drastic, inevitably some pee gets on the floor.  I quickly became so over scrubbing bare concrete!  So I decided to paint it.
This is the floor just partway done ~ the light rust (looking orange in this pic) is not fully across the floor and the second color has not been applied (the white is just primer).  I promise to show pics of the completed floor!  It looks so fantastic.  Bonus: several coats of semi-gloss paint has created a surface layer that is a breeze to clean.
Charlie came inside once the first section I'd painted was fully dry and he became obsessed with the colored paint.  He paid no attention to the white paint but somersaulted and rubbed his body all over the colored squares.  He is weird.  Please title this photo.  You'll be in the running for an equally weird prize.
453 Responses to "Apparently It's Not Eli That Charlie Bows To, It's The Color Orange."
Adrienne Says:
April 16th, 2010 at 12:25 am

Dust Bath

Shawn Gibbons Says:
April 28th, 2010 at 12:43 pm

Coyoteflage! Now you can't see me!

Kim Says:
April 30th, 2012 at 11:16 am

I know this is years old, but I didn't see it back then, and I just can't help it…I have to add a tiny drop to the bucket of hilarious wisdom that is this list of possible titles. Shouldn't it be called: "We're all mad here…"?
Leave a Reply