MunchKin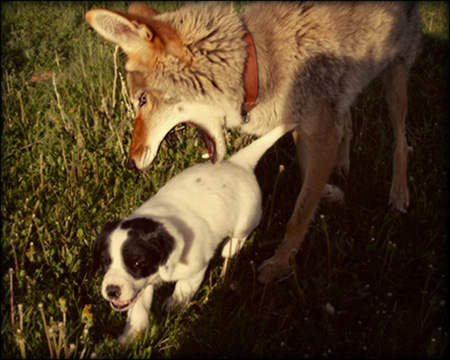 photo taken May 2008
one year ago: Bon Ami
two years ago: Coy
Please forgive me for not posting a shortlist today ~ animals + new site + technical glitches have me wishing for a clone-for-the-day!  But THANKYOU to one and all for the AMAZING entries!  Comic relief. Love it.
ps: Dave R: Your title is like a mirrored corridor of puns and perfection!
• • • No puppies were harmed in the taking of this photo!
(nor afterward; Charlie was such an amazing big bro to baby Chlo.)
Yet herein, Charlie seems moments away from devouring Chloe while Chloe knowingly smiles at the camera.  Let your minds go wild with this one and leave your title, caption, or canine commentary in the comment section.
The prize this week: I have gathered some earthly goodies, including a few more skunk bones, delicate and bleached white, for a special someone who is perhaps in need of some skunk medicine:
"The skunk does not get out of the way of any animal.  It moves along at its own speed, with its own mind.  It is self-assured and confident in itself.  Skunks are fearless, but they are also very peaceful.  They move slowly and calmly, and they only spray as a last resort.  Skunk teaches how to give respect, expect respect, and demand respect." ~ from Animal Speak
291 Responses to "MunchKin"
Leave a Reply