Finally, The Floor!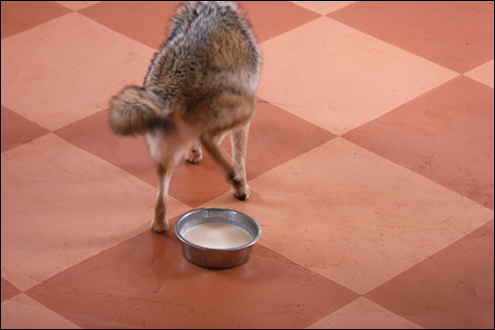 photo taken January 2010
one year ago: Love And Tolerance
two years ago: Ears, Nose, Tail
A month ago, I posted a pic of Charlie rolling around on my work-in-progress floor: plain, ugly concrete I was painting in order to make it easier to clean, as Charlie has a rather annoying winter habit of territorial pissing, as documented here with a bowl of milk.  This only happens in the winter, a mimic of what he'd be doing in the wild.
So here is my finished floor!  It's the same two colors that I used on the outside walls, matched to the red dirt wet and red dirt dry.  Extra bonus ~ muddy paw prints aren't as noticeable!  It's gorgeous, and was surprisingly fun and easy to do.  I've put together a tutorial HERE.  The new paint job even makes the irregularities of my hand-spread concrete look less hillbilly, and more like the floor of a rustic French cafe.  Hurrah!