Cookies 'N Cream (& A Little Bit Nuts…)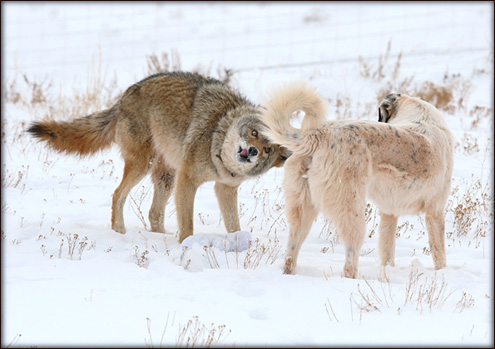 photo taken January 2010 • title thanks to heather em
one year ago: Oh, The Days Gone By
two years ago: Under My Desk
Ok, you guys are funnier than that photo.
THANK YOU FOR MAKING ME GRIN SO MUCH!!!
les runners-ups:
"So that's why Mom calls you special." – Chloe
Looney and Mooney
Spin cycle, set to whites :)
Wacky Pack
COOL FOOL…..
Tail-a-scope
Lick Schtick………….
Doofi (which of course is the plural of 'doofus')
Charlie with a twist
The only way for Charlie to get a halo
THTHTHFFFFFBT!
Brain freeze.
It was right on the tip of my tongue!
Let's shake on it
Twist and Snout!
Corkscrewy
Inside every coyote lives a clown
Say what?!
The pretty ones are always the crazy ones.
• • • These two are soooooo cute.  And funny.  And weird.
Oh, Charlie.
That's all I can say.
And so it falls to you to give this photo a worthy title…
Leave your caption, title, commentary, and/or dialogue
in the comment section of this post
and you shall be in the running to win a print of your choice
from the SHOP page (here).
And they're off!
273 Responses to "Cookies 'N Cream (& A Little Bit Nuts…)"
Leave a Reply