Reservoir Dogs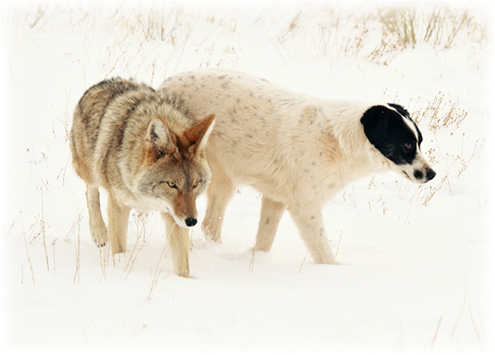 photo taken January 2010 • title thanks to Lisa W.
one year ago: A Furling Ear
two years ago: Intro To Snow
Oh my goodness, these entries were SO fantastic!  So diverse and hilarious and GENIUS ALL AROUND!  I'm so happy you share your wit and cleverness with me ~ I love laughing unexpectedly, over and over again, as I read through the captions you all leave. I bow to you.
Lisa W, you nailed the attitude!
Tied for second place:
Two if by snow
Cold Determination
Double Trouble!
Basic Instinct
You'll Never Stalk Alone
Chloe's first day in Coyote 101.
The first to spot Daisy wins!
"Why do I always freckle so much in winter?"
"Don't worry, it's hardly noticeable"
Bonnie and Clyde
"Okay, so Eli tied our tails together…try to look casual!"
"I can't believe that rabbit managed to tie our tails together again. this is just BEYOND the pale."
The hounds go marching two by two hoorah, hoorah.
Take it hip to hip and rock it through the world. (nice B-52′s reference, Trudy!)
All I can hear when I look at this picture is the song from "Jaws"
• • • Such determined expressions on these two…
what could they possibly be up to?
It's up to you to answer! Please leave your title, caption, or thought bubble commentary in the comment section of this post and you will automatically be in the running to win a really special prize ~ a naturally shed three-point mule deer antler with some of the most graceful lines I've ever seen.
Go forth and title!
266 Responses to "Reservoir Dogs"
Leave a Reply