Lamb Chomp!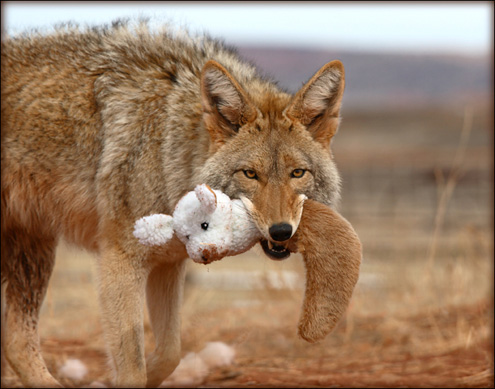 photo taken February 2010 • title thanks to Martha Parks Johnson
one year ago: Cornball
two years ago: Indy Each Other
How doth ye DO it?
Your captions are so great.
Hilarious & humbling.  Fantastic & fantastical.
Thank you as always for sharing
your
wit
with
me!
Ewe feeling lucky?
Cotton Mouth
Is there something in my teeth?
Serious fun
'Ewe make me feel like a natural….'
"You're right, this dipping sauce is really good!"
Red Clay Prey
And the Coyote shall lie down with the Lamb…
"If chewin' stuffed animals is wrong, I don't wanna be right!"
Just Practice.
Squirrely Burly
I dream of a world where lambs and squirrels can live as one…I mean, really live as one. Squirrelambs, if you will.
Lamburghini
Ewephoria!
A lamb-arama ding dong
Heads or Tails, it's still MINE!
"Comma on over, I promise It won't hurt…" *chomp*
Ewe make the hair on the back of my neck stand up.
Baa baa baa bad to the bone
Propensity for Intensity.
Falafel coyote style
• • • This is Charlie immediately after getting a new toy.
Which became his favorite toy.
Although it's kind of easy to forget it's a toy ~ Charlie makes it look like prey……
Can't wait to see what you do with this picture.  Leave your title, caption, or thought-bubble in the comment section of this post and you'll be in the running to WIN!  This week's prize is a signed copy of my book ~ your choice of hardback, paperback, or gluten-free cookbook!
172 Responses to "Lamb Chomp!"
Leave a Reply