Dailycoyote.net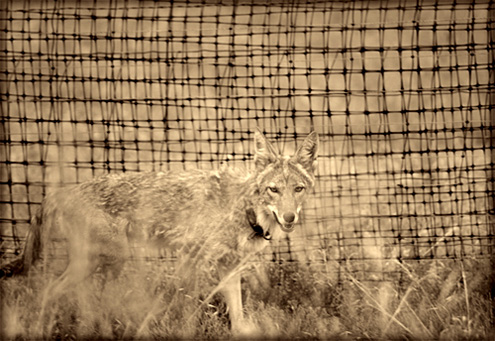 photo taken July 2010 • title thanks to Ursula
one year ago: Glove And War
two years ago: Baby Yawn
three years ago: Outside The Den
Ursula, applause!  Your entry is the ultimate pun.
Nobody's getting a goal on my watch.
I Walk the Line
Dream Weaver
I am not the coyote you are looking for. (in his best Jedi voice)
Wyoming interwebs.
Wire E. Coyote
coyoTEA STRAINER !
Livin' off the grid
Don't mesh with me…
Warp, Weft, 'N' Woof
coyote in contrast
Here's Lookin' at you, Grid
"Where did the fish go?"
Square Stare
Charlie's Web
What a mesh!!!
• • • I realized, just right now this second, that on September 22 I missed the three year anniversary of this blog!  Wowie zowie.  I need to add a "three years ago" link to the last ten or so posts, but am tooooo tiiiired to do so right now.  So, in the meantime, HERE'S THE BEGINNING! It all started with a nubule…
Caption contest is back!  This photo reminds me of… something.  A modern art museum, or a newspaper.  Can't wait to read what you see in it.  Prize will be choice of a feather print or a Wyo care package!
237 Responses to "Dailycoyote.net"
Leave a Reply