It's Just Fluff!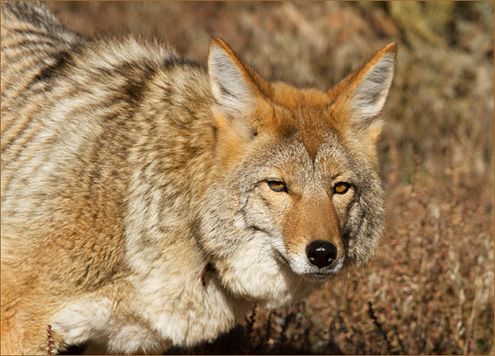 Hi Everyone! I'd like to take a moment to clear up any concerns about Charlie's weight. Every fall and winter, I receive emails regarding Charlie's "weight gain." Some go so far as to call him obese and me reckless for allowing him to become obese. Then, each summer, around July, I receive emails about how skinny Charlie has become, and is he OK or is he ill? The simple answer to all of the above is fur!
I care very much about Charlie's well-being and general health and, while he does often eat better than I do, he is not an obese coyote, nor is he overweight. He probably weighs more than any wild coyote, but I would also guess that Chloe weighs more than the average stray dog, as well.
If anything, Charlie has such incredible, lush, dense, healthy fur each winter because he is well-fed with a steady, balanced diet. As you can see from these pictures, his fur has come in and has become very thick! I'm using these side views as examples because coyote necks don't carry any fat. They just don't. That is all fur – lots and lots of fur.
You can also see the depth of the velvet on his forehead and around his ears. Even though there's no snow on the ground at the moment, Charlie is ready for it, and his coat will keep him cozy when temperatures drop to 40 below zero. When he sheds all this fur in the spring, it's enough to overflow a big black garbage bag. His diameter shrinks by half. And he's the same little trickster underneath it all, regardless of the season. Ain't nature grand?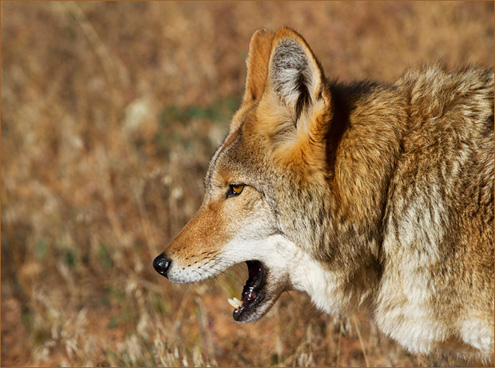 photos taken October 2014
one year ago: Monday?!?
two years ago: Cackle
three years ago: Tummy Tackle
four years ago: Stately And Sweet
five years ago: Chloe Gets Too Deep For Charlie
six years ago: Seeing Something We Don't
seven years ago: Many Of You Have Wondered…

30 Responses to "It's Just Fluff!"
Leave a Reply