"I Gave Her A Foot And She Took Four."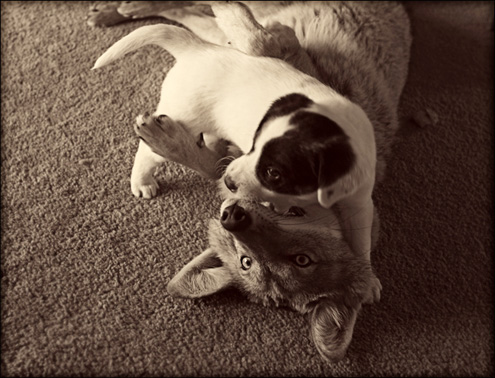 photo taken May 2008 • title thanks to E.Jolie
Apologies for the delay in posting the winner today ~ I had to go to the grocery store and the hardware store, which means if I leave before 9am, I'm back around noon…. that's how it goes living in the country!
Add to that a very difficult decision here, as usual.  Such fun seeing the diversity of captions!  In the end, E. Jolie, yours sums up exactly what I interpret Charlie's expression to be.  Congrats!
"This doesn't taste like an elf leg…"
She had me at howl-o.
Wyoming Twister
"Chloe got your tounge?"
Who's your puppy!!!
Chloe's first toy
"Puppy Chow"
Love at first bite.
Yin and Yaannggghhhff!
Pirates! AAAR!
Coyote Snack-down
She's got him under her tum…
The Lady is the Champ!
Eye-sosceles
"Toyote"
• • • Here's another classic from the archives ~
Charlie and Chloe during her first week with us.
The juxtaposition of these two cracks me up.  It's for you to name ~ leave your title, caption or commentary in the comment section of this post and you're in the race for an antelope horn (click here for a past description) and a lucky horseshoe (I checked, it's chock full of luck).
Good luck & Godspeed!
356 Responses to ""I Gave Her A Foot And She Took Four.""
Leave a Reply