Queen Kong!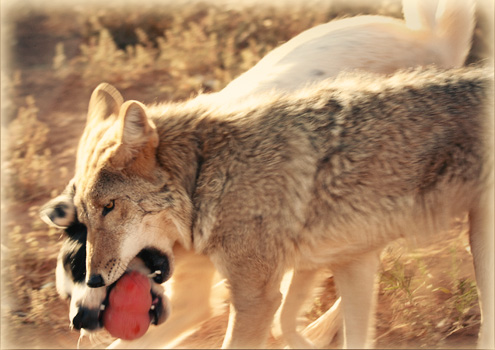 photo taken September 2009 • title thanks to June
one year ago: Tasty Puppy Snout
two years ago: Five Weeks
Who knew there were so many possible Kong puns!  I keep going back to June's (others entered this too, but June was first, and this is as fair as I can figure at the moment ~ my mind is still disproportionately focused on Daisy and the new calf (who is doing fab! I'll have pictures up soon! That contest winner is directly below the runner-up list!).  And I bow to:
King-Conned
Red Rubber Robber
Tricking the Trickster
Kong Queen Conquering
Kong Fu-ey! How'd she get that from me?
Come on Eli, get in the Kong-a line!
Easy Kong Easy Go
Wile E. Chloe
Wonky Kong
Kong Gone
"Go Play with the Moose"
"Go Play with the Moose" – you slay me!

ALSO, I've finally found the winner of the "What's Daisy's calf going to be" contest ~ I used this random number generator and the first correct answer was Sara!  I'll be emailing you, Sara.  Thanks to everyone who participated; on such an intense day, it was a lovely release to read all the entries and laugh and wonder along with you all.
• • • I'm sure there's a football term for the move Chloe pulled here ~
she grabbed that kong right out of Charlie's mouth.  He likes to think of himself as infallible, so he was rather irked.  But the game went on, and ultimately, that's all that matters to them.
The caption contest is back after a one week hiatus!
Leave your title, caption, or commentary for this photo in the comment section of this post and you're in the running to win one of Mike's extraordinary (and legal) eagle feather antler necklaces, to keep you light and strong in the new year.
{you can see one by clicking HERE}
{more going into the etsy shop this week!}
184 Responses to "Queen Kong!"
Leave a Reply