Neither Head Nor The Tail Finds The Leg On The Bale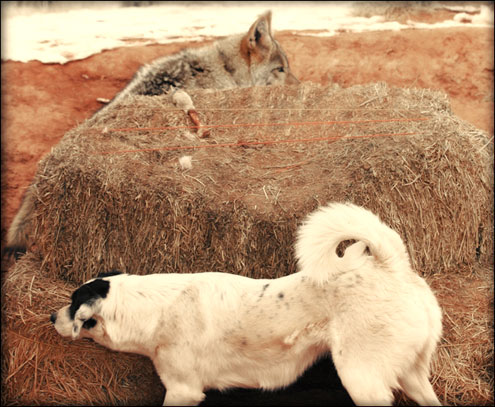 photo taken December 2009 • title thanks to Lary
one year ago: "Beyond The Fence Lightly We Tread, The Leader & The Led"
two years ago: Coyote For "I Was Here"
Good eye, Lary!
And the fantastic runner-ups:
Lairrousel
Haynines
Cirlcling the Prize.
Lookout Loaf
On the trail of tail around the bale.
Still too early for Easter Eggs?
Wyo Housing Inspectors
Square Dance
Hairy Go Round
O Brother, Where Art Thou?
Eli's security dogs on the look out.
Charlie, are you sure a pig lives here??
Pointer and pointy
Play Hay
The Monkey Chased the Weasel
Shhh… we're huntin' wabbits…
"Eli said there was a needle in here somewhere……"
And jumpy claps to KRae for mentioning the two-gorillas-and-a-safe scene from the Pink Panther ~ I love that movie. You're getting a special prize too.
• • • Howdy All!  I am exhausted.  There's been a lot of action around these parts and what sounds most luxurious to me, right now, is to stretch out with a book I can get lost in.  Though perhaps stretching out with my laptop on my belly and reading your entries for the caption contest will do the trick!  And perhaps I might grant such a respite in giving away a signed copy of my book as this week's prize.  Leave your title, caption, or cartoon-bubble-speak in the comment section and you're in the running to win!!
253 Responses to "Neither Head Nor The Tail Finds The Leg On The Bale"
Laura Says:
March 31st, 2010 at 12:05 am

"1…2…3…4…5…6…7…8…9…10!!! Ready or not, here I come!"

abigail Says:
March 31st, 2010 at 8:55 am

you said you threw the bone over here?

Anonymous Says:
January 25th, 2011 at 10:10 pm

b,,,,,,,,'/
<HHHHHFHVyf8vuyh8fvujhuvfjcf8vhjd8fgu8u8vbuvjf8ubj8fub8fu.
Leave a Reply